Clarifying Methodologies for Health Professions Education Research: Applications in Your Workplace
PLEASE COME BACK FOR UPDATES.
The Wilson Centre of the University of Toronto, in collaboration with the National Healthcare Group (NHG) in Singapore, are proud to offer a four-day intensive programme in qualitative research for health professionals working in clinical academic contexts. Participants will have the opportunity to hone their research skills through guided seminars, skill-building workshops and exercises led by some of the world's most respected health professions education researchers. The programme will be conducted in Singapore's Novena Health City, an inspiring environment for learning and application.
For more information, please see details here.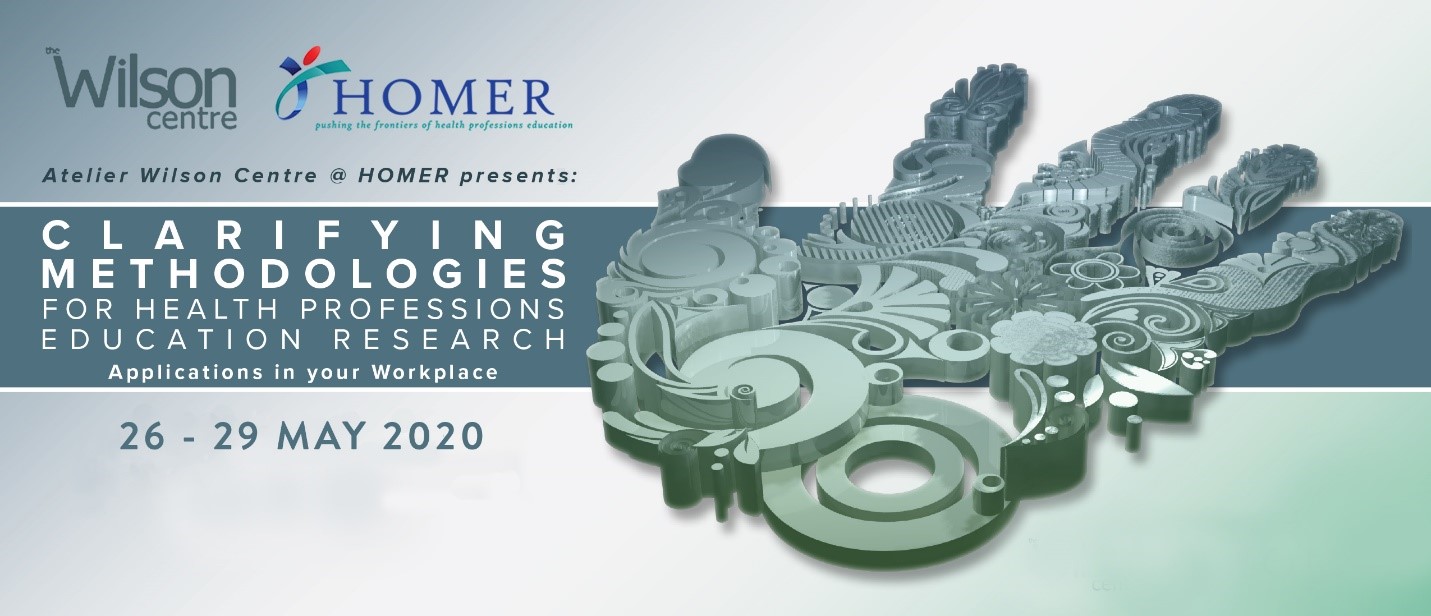 Programme Highlights

| | |
| --- | --- |
| Knowledge-building: | Attend lectures on research traditions such as case study, ethnography, grounded theory, critical discourse analysis, and mixed methods |
| Skill-building: | Take part in workshops on data collection techniques such as interviews, observations, focus groups and simulation design and learn how to analyze your data |
| Scaffolding: | Integrate new learning every day into your research practice |
| Problem-solving: | Work through methodological dilemmas in discussion with faculty and fellow participants |
| Individual work: | Develop and present your work to the class for feedback |
| Group work: | Teach-the-teacher |
Health professions educators making their foray into qualitative research.
Khoo Hwee Sing, Principal Research Analyst,
HOMER
Issac Lim, Head,
HOMER
Jennifer Cleland, Professor & Director,
MERSU, Lee Kong Chian School of Medicine
Kulamakan (Mahan) Kulasegaram, Scientist,
The Wilson Centre
Mary Lee, Principal Research Analyst,
HOMER
Nancy McNaughton, Scientist,
The Wilson Centre
Tina Martimianakis, Associate Director, International and Partnerships
The Wilson Centre
Lim Wee Shiong, Faculty Advisor, HOMER
Senior Consultant, Tan Tock Seng Hospital
| | |
| --- | --- |
| The Wilson Centre strives to be a global leader in advancing healthcare education and practice through research. Its mission is to foster the discovery of theory and new knowledge relevant to advancing healthcare education and practice, foster the translation of new knowledge by promoting creative synergies between diverse theoretical perspectives, and between theory and practice, and cultivate future research leaders in healthcare education and practice | HOMER, which stands for Health Outcomes and Medical Education Research, was established as a unit within the NHG Education Office, to inform and transform health professions education by providing the strongest evidence for educational practices. It seeks to build the research capacity of NHG's community of health professions education practitioners by enabling clinical educators to conduct rigorous research, and providing avenues to communicate these findings. |
Course Fee: $3,500
Early-bird Registration: $3,250
Note:
– All prices quoted are in Singapore Dollars (SGD) and are subjected to 7% Goods and Services Tax (GST).
– Registration fee does not include travel arrangements, accommodation and visa fees.
---
Date: TBA
Time: 8.45am – 6pm
Note: There is a Group Networking Dinner at 6.30pm.
For more information, please see programme details here.