Introduction to Palliative Care
09 Apr 2019 - 11 Jun 2019
9 half-days course, with 1 day clinical attachment, aimed  to increase participants' confidence and competence in caring for patients with life-limiting conditions.
For more information, please refer to the course brochure.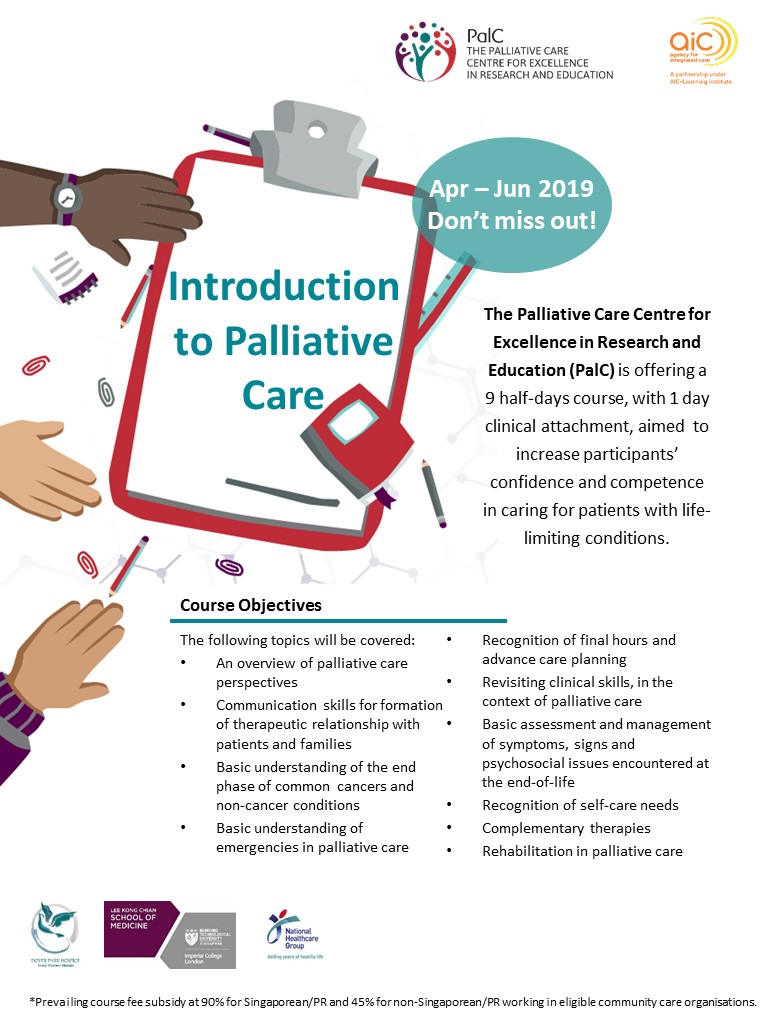 The following topics will be covered:
An overview of palliative care perspectives
Communication skills for formation of therapeutic relationship with patients and families
Basic understanding of the end phase of common cancers and non-cancer conditions
Basic understanding of emergencies in palliative care
Recognition of final hours and advance care planning
Revisiting clinical skills, in the context of palliative care
Basic assessment and management of symptoms, signs and psychosocial issues encountered at the end-of-life
Recognition of self-care needs
Complementary therapies
Rehabilitation in palliative care
Enrolled Nurses and Nursing Aides working in nursing homes, hospices or community hospitals who care for patients with life-limiting conditions.
Course fees before subsidy: $695.50 per person (including GST)
*Prevailing course fee subsidy for staff working in eligible Community Care organisations:
90% for Singaporean/PR and 45% for non-Singaporean/PR.
*Organisations will be billed the amount after subsidy.
---
Classroom dates: 9 Apr, 16 Apr, 23 Apr, 30 Apr, 7 May, 14 May, 28 May, 11 Jun and 18 Jun 2019
Time: 8am – 12pm​
Venue: Dover Park Hospice, 10 Jalan Tan Tock Seng, Singapore 308436
Clinical attachment date: 30 May 2019
Time: TBA (full day)
Venue: TBA
Please register via AIC ILTC-LMS. Registration closing date is 20 March 2019.
For those without access to AIC LMS, please complete the course registration form and send to enquiries@palc.org.sg.
You may contact us at enquiries@palc.org.sg or 6500 7269 if you have any queries.