The Palliative Care Centre for Excellence in Research and Education Receives $800,000 Gift to Boost Research, Capabilities and Innovation in Palliative Care
04 Mar 2020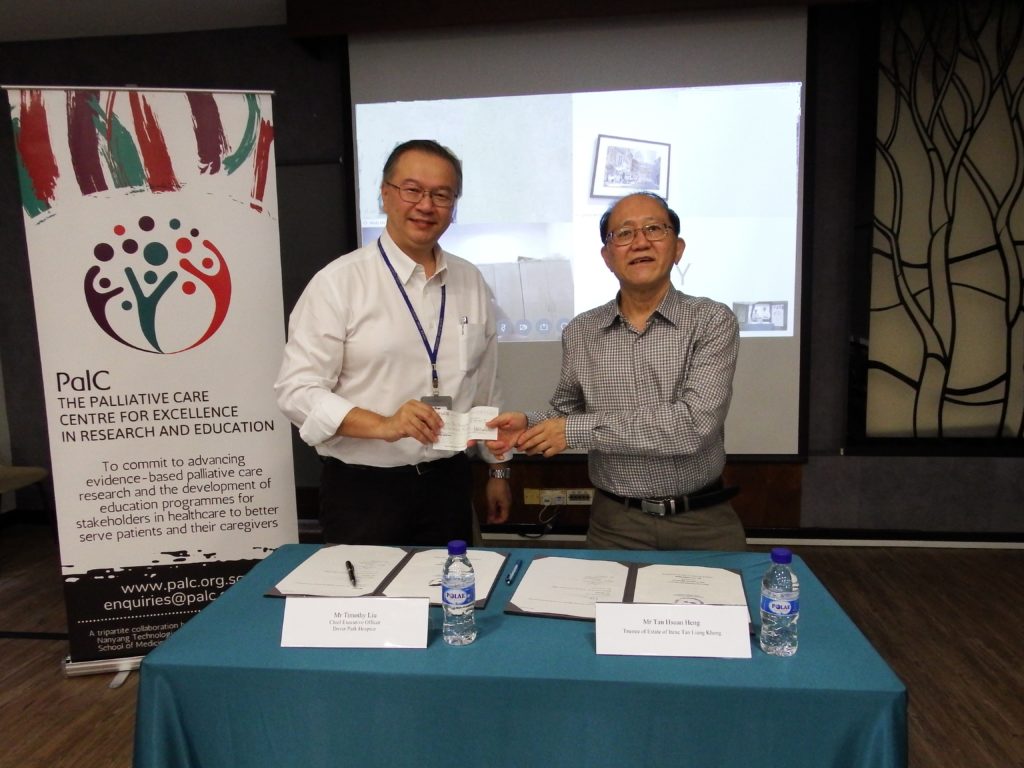 SINGAPORE, 4 March 2020 – At a signing ceremony today at Dover Park Hospice, the Irene Tan Liang Kheng Palliative Care Research Fund was formalised between Mr Tan Hsuan Heng, nephew of and trustee of the estate of Irene Tan Liang Kheng, and Mr Timothy Liu, Chief Executive Officer of Dover Park Hospice and a Steering Committee Member of the Palliative Care Centre for Excellence in Research and Education (PalC).
Adjunct Associate Professor Allyn Hum, Centre Director of PalC and Senior Consultant at Tan Tock Seng Hospital said, "We are grateful to Mr Tan Hsuan Heng and the estate of Irene Tan Liang Kheng for the generous support towards the advancement of palliative care research and education. This gift is timely as it enables our palliative care practitioners to work on innovative research which will benefit patients and their caregivers. Educational endeavours funded by this gift will increase the capacity of the healthcare community to care for patients living with life limiting illnesses."
Established in 2017, PalC was set up as a tripartite collaboration between Dover Park Hospice, Nanyang Technological University (NTU), Lee Kong Chian School of Medicine and the National Healthcare Group (NHG). PalC aims to develop and provide quality, evidence-based training and education programmes on end-of-life care to build and empower healthcare providers.
PalC also endeavours to advance palliative care research in both cancer and non-cancer illnesses, expanding the evidence base for patient centred care. As more individuals choose to pass away at home, PalC will also study home-based palliative care models, not only to better care for patients living home, but to support their caregivers who provide the majority of the care.
"As our society grows older and more people are living with chronic diseases, the need for prompt and effective palliative care will also increase. I hope the gift from the estate of my aunt will pave the way to attract more donors to support this compassionate cause." Said Mr Tan Hsuan Heng, nephew of and trustee of the estate of Irene Tan Liang Kheng.
The Irene Tan Liang Kheng Palliative Care Research Fund will provide funding for research in end organ disease, advanced cancer, community palliative care, caregivers' needs and ethical issues at the end of life. A portion of the gift will also be allocated to educational programmes for palliative care nurses in the form of self-care workshops.
Mr Timothy Liu, CEO of Dover Park Hospice and Steering Committee Member of PalC said, "As hospice care develops and matures in Singapore, not only do we need compassionate hearts for the terminally ill but also evidence-based research and care models, knowledge and skills to better care for our patients and caregivers in their home and community."